LFT is a UKAS accredited testing laboratory No 9245 for onsite water testing. We undertake Hose and Spray Bar tests to CWCT, NHBC and AAMA standards and provide UKAS accredited test certificates. We can also test to EN 12155:2000 or CWCT section 6 onsite cabinet testing 13051 Annex B. As you would expect from a laboratory, the testing is precise and measurable with constant checks to ensure accurate results every time. It is not random spraying of water.
When To Schedule Your Test
The most common cause for façade failures is water ingress. Cladding and glazing components may pass water tightness tests in laboratories, but on-site water tightness testing ensures that the performance of the system has not been compromised by inaccurate installation or unseen damage in transit.
At LFT, we are often asked when the most appropriate time to schedule a water test is, and our advice is to always book a test before interior construction begins as our team can easily access the necessary areas to conduct tests without disturbing or removing any components. Leaving testing until after the build has been completed can result in walls, fixings, and other features needing to be moved or dismantled, and later replaced to allow for access.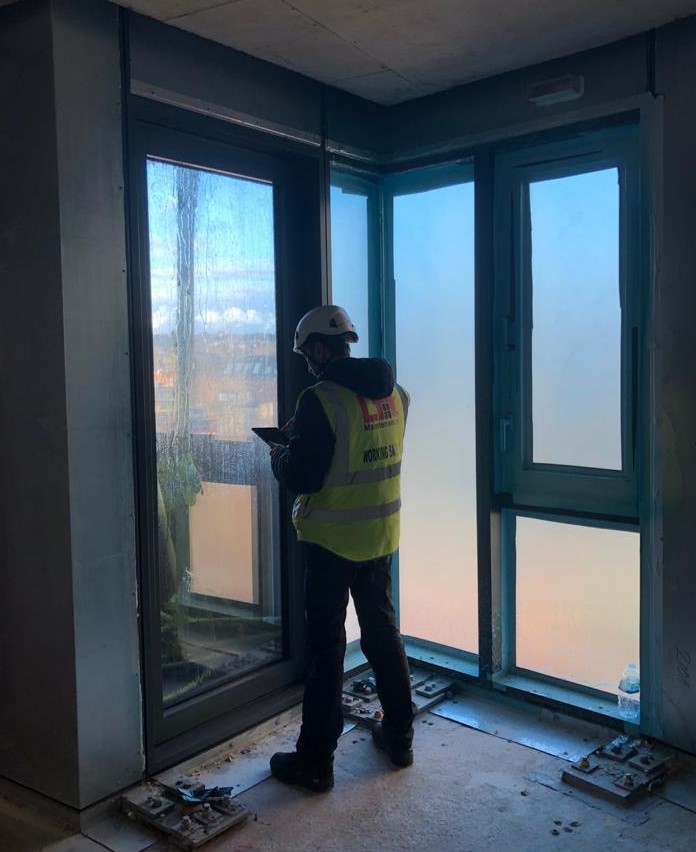 A hose test is used to test the water tightness of closed jointed systems (curtain walling) and consists of spraying water at the building facade in a controlled manner and inspecting from inside for leaks.
EQUIPMENT
For a CWCT hose test, we use a 350L bowser and a 110V pump to generate the correct flow and pressure for testing, as well as a calibrated gauge, and Monarch B-25 Nozzle to produce a 30° solid cone spray pattern spraying 22 lpm at 2.2 bar of pressure (as dictated in official guidance: CWCT Section 9, AAMA 501-94).
TEST PROCEDURE
A Hose Test is conducted in 2 stages:
Stage 1: 5% of the windows, doors, and curtain walling are tested, taking 5 minutes per 1.5m (linear).
Stage 2: Once this is completed, we allow 30 minutes of drain downtime to inspect for leaks.
We then repeat the two stages over a set test area – testing from the lowest point across the transom followed by each mullion one at a time to intersecting transom.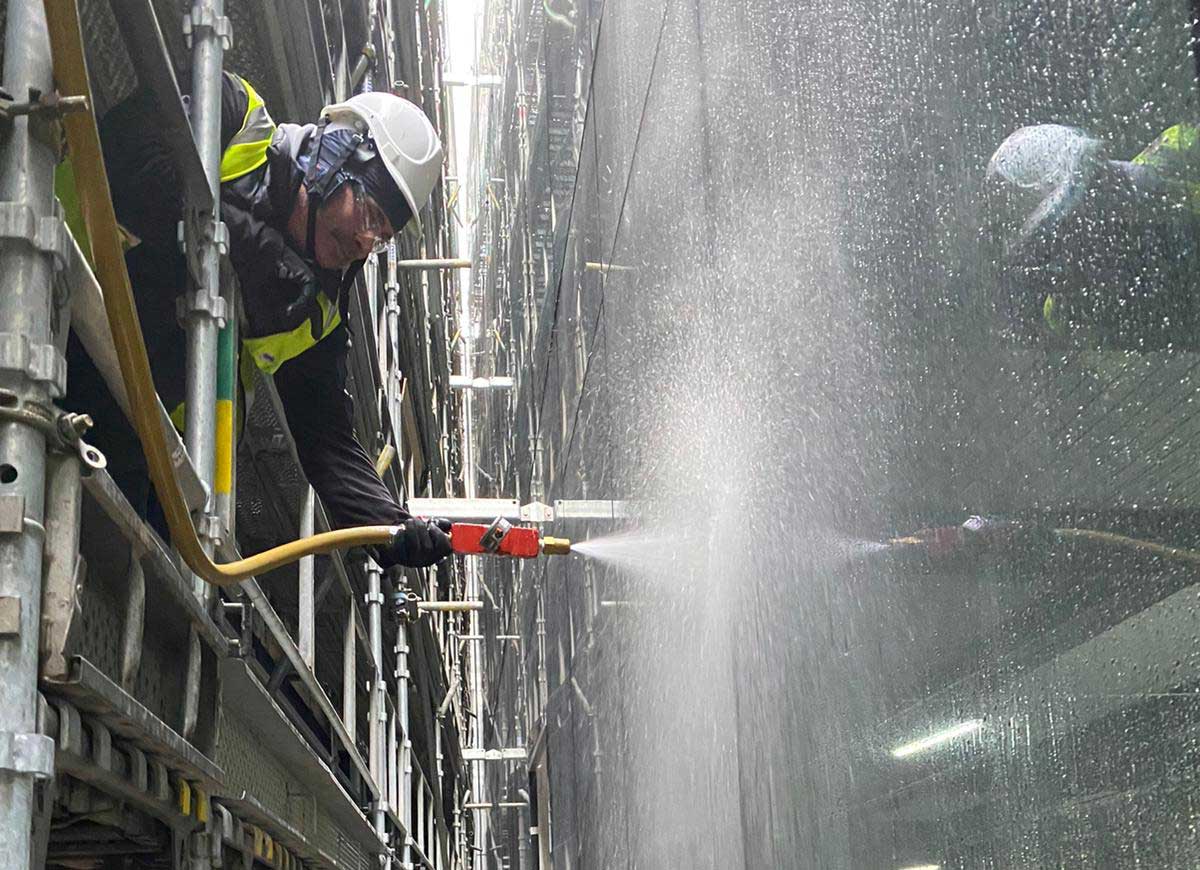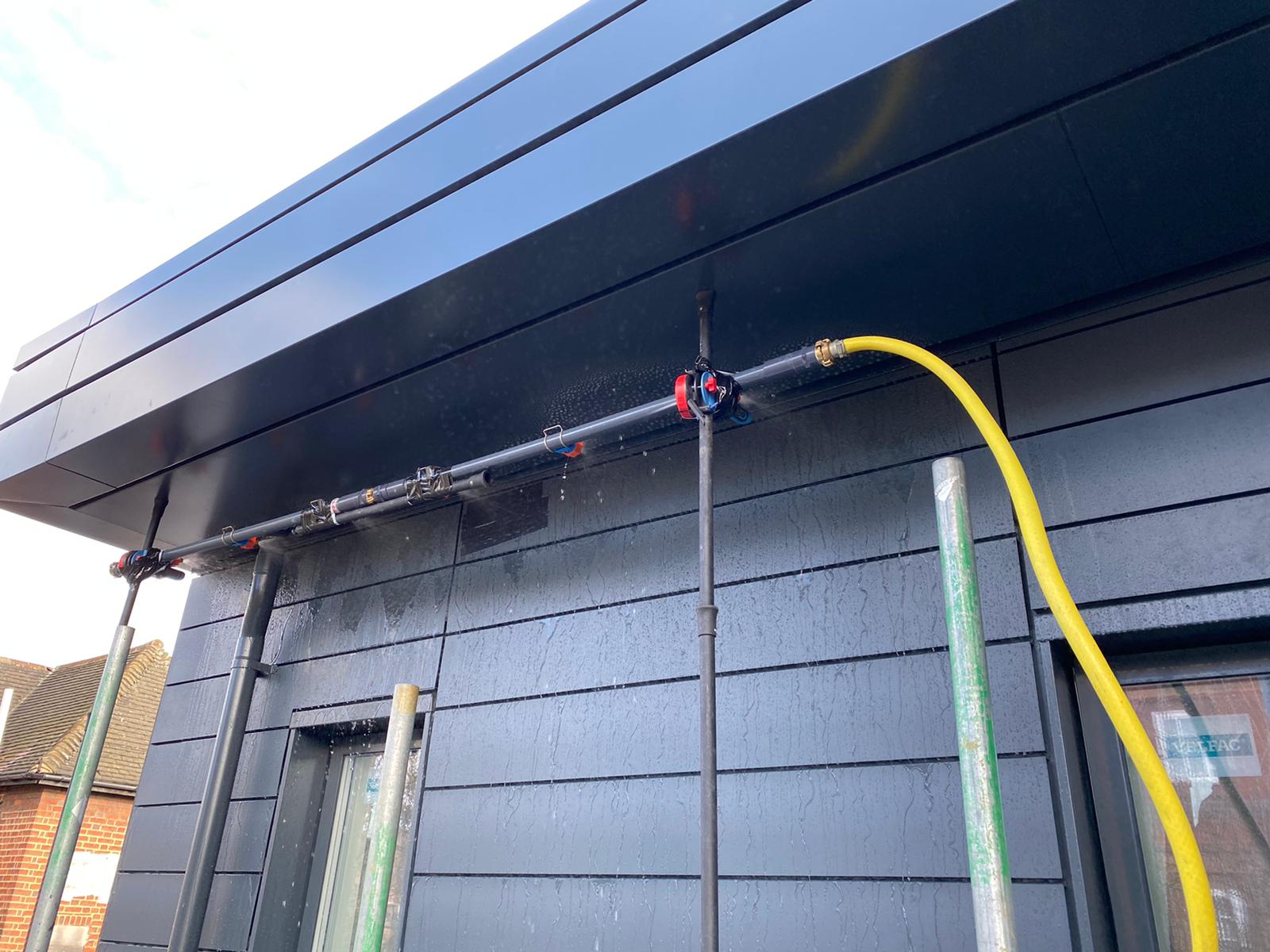 A spray bar test involves using a flow and pressure-controlled system to simulate natural rainfall to create an accurate weather test for cladding and glazing systems, and then inspecting from the inside for leaks. The test is conducted to determine water flow around penetrations through systems, focusing on opening joints such as vents, windows, cladding and doors).
EQUIPMENT
The bowser and pump are as per the hose test. We can test both large and small areas with our 2m and 4m width spray bars that are also capable of reaching up to 6m in height. Each nozzle has its own individual tap to allow for complete control to meet the precise UKAS Laboratory Standards.
TEST PROCEDURE
A spray bar test is performed in 2 stages:
Stage 1: Water is sprayed in a mist pattern over the façade for 30 minutes
Stage 2: We allow 30 minutes of drain downtime to inspect for leaks.
Once completed, our team move along the facade to repeat the procedure.
We can provide onsite Cabinet Testing; if you require further details of what we can offer please contact us.
Before our team begin testing on-site, we ask if all clients could please complete the following form by clicking the button below.